STEM Learning's CSR Program Implementation details from Gujarat region
Across India, STEM Learning is the implementation partner of Mini Science Centres (MSCs). Integrating STEM Learning in the education sector develops curiosity, inquisitiveness, critical-thinking, problem-solving, imagining, innovating, questioning and exploring, designing and building, testing and modifying their solutions to complex problems among learners. This modern way of teaching not only helps students comprehend the concepts and their applications easily, but also helps in implementing them for the progress of the society as the students will be equipped with the required knowledge and skills for life.
With the support of our 18 partners, STEM Learning has been instrumental in installing MSC in 54 schools in the state of Gujarat. We've partnered with Lupin Foundation, 63 Moons, L&T Technology, L&T, L&T S&L, Honda, Covestro, AADI Enterprise, Kalpataru, GMDC, Polycab, Piramal Glass, Essar Bulk, Adani, ONGC, Reliance, Sumitomo and United Way of Baroda with an objective to increase the scientific temper & inquisitiveness among students, so they can be ready for the future.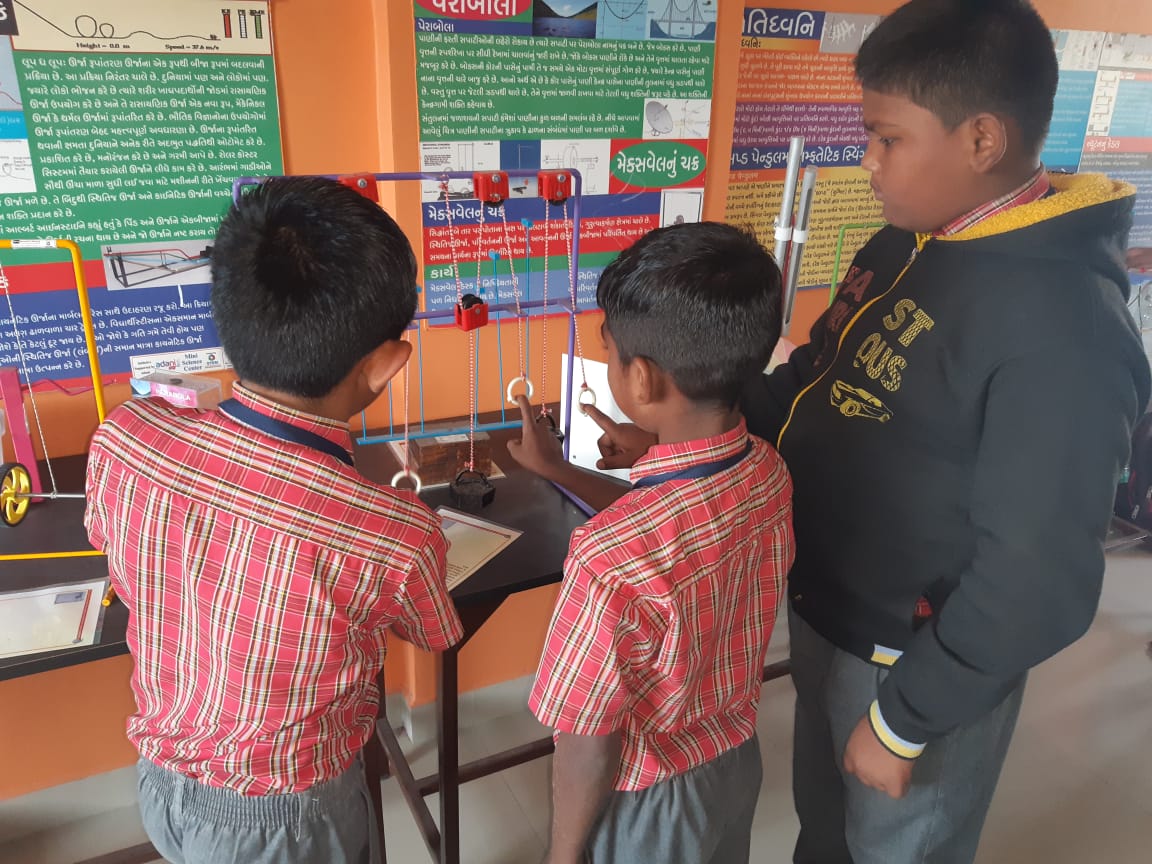 Each MSC includes 80 plug and play models. These learning aids have been used by the teachers in Gujarat. Teaching aids bring light-hearted energy while learning a concept. This has shaped students who have shown a 15% more interest in the science and maths concepts. This has led to a transformation in learning style, from rote learning to an organic and meaningful approach where students understand what is taught in the classroom. Students, who find it difficult to focus, are drawn to the interactive models.
With this practical learning, a rise in the attention span of students is witnessed. This in turn has positively impacted the confidence levels of students and has motivated them. This has been beneficial for students with learning difficulties who are now happily engaged in exploring the models. The fear attached to science and maths subjects is gradually diminishing. STEM Learning is successfully achieving its mission.
The schools in the cities and districts of Gujarat namely Ankleshwar, Surat, Vadodara, Mehsana, Ahmedabad, Bharuch, Dahod, Gandhinagar, Kutch, Hajira, Navsari and Valsad have experienced the transformation in the pedagogical learning approach introduced by the MSC. 21,600 students have been a part of this revolutionary change.
The learning exhibits are light in weight and can be easily carried to the classrooms. The plug and play models are aligned to the syllabus of 5th to 10th standard students which makes it reasonable for teachers to employ them during the lectures. 50-60% of teaching time is reduced when the exhibits are optimally utilized. This pedagogical change not only impacts students but also teachers are empowered to educate the future leaders.
In Gujarat, 216 teachers have been trained to use the exhibits of the MSC. STEM Learning organizes thorough 'Teacher Training Programs' before the MSC is installed as well as on request of the schools, as required. The teachers are up skilled with the introduction of these trainings. After applying what they've been instructed to do, the teachers have seen a substantial progress in the acumen of students. Students have begun teaching their peers and an interdependent learning environment is created.
The students have displayed their talents in the STEM awards held in February 2020. They participated in various events such as Quiz Competitions, Tinkering and Model Making Competitions. The practical implications of a thorough STEM education were displayed in this event. Students from 12 cities and districts of Gujarat participated and demonstrated their STEM skills. These students proved that when given a chance, they will shine to become STEM Champs of tomorrow. STEM Learning is indeed building brains beyond books.