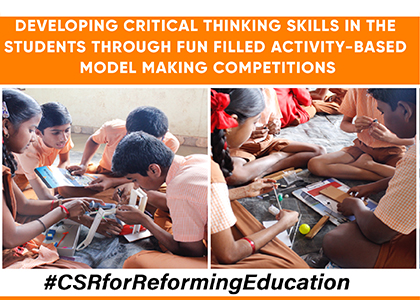 As part of the CSR in India, stemlearning organizes Model Making Events in schools to encourage students to brainstorm and come up with their own ideas of new models. The routine interaction of students with the Mini Science Centre models creates their inclination towards Model Making.
These CSR events build confidence among the children and develop critical thinking skills in them. These events are a fun filled activity-based learning time for these students. It expands their ability to think and design their own easy to use affordable scientific and mathematical models.
STEM Learning organizes Model Making events by providing the students with problem statement and raw materials. The aim is to check the understanding and concept clarity of the students through a 360-degree knowledge test, where they have to conceptualize idea, design, get involved in resource management and exhibit the models. In a time bound event, the students compete to develop models which are evaluated on the basis of functionality, usability and stability. The presentation of the models made by the students are also judged and evaluated. These events develop critical thinking skills in the students, by providing them with a fun filled activity-based learning time.