STEM Learning's CSR Program Implementation details from Andhra Pradesh & Telangana region
STEM Learning is the implementing partner for the installation of Mini Science Centres (MSCs). STEM is quickly becoming an educational initiative because of its ability to integrate everything in day to day life. A quality STEM program helps students to gain the skills required to succeed in today's challenging world. This includes the ability to think critically, solve complex problems and drive advancements in science and technology.
STEM Learning seeks to establish viable, long-term and successful CSR (Corporate Social Responsibility) programs in the area of education. STEM Learning works with companies and develops creative initiatives to make sure that its objectives have the greatest impact when needed. STEM Learning , with the support of Corporates installed MSCs in 6 schools of Andhra Pradesh and 32 schools in Telangana. STEM Learning has partnered with various Corporates to implement the CSR initiatives in the education sector. Corporates namely Lakshya Kakinada, Seva Sahyog, WNS Cares, STEM Mumbai, HSBC, AMD & UWH, Assist, Edique, Ryan-UWH and Technip.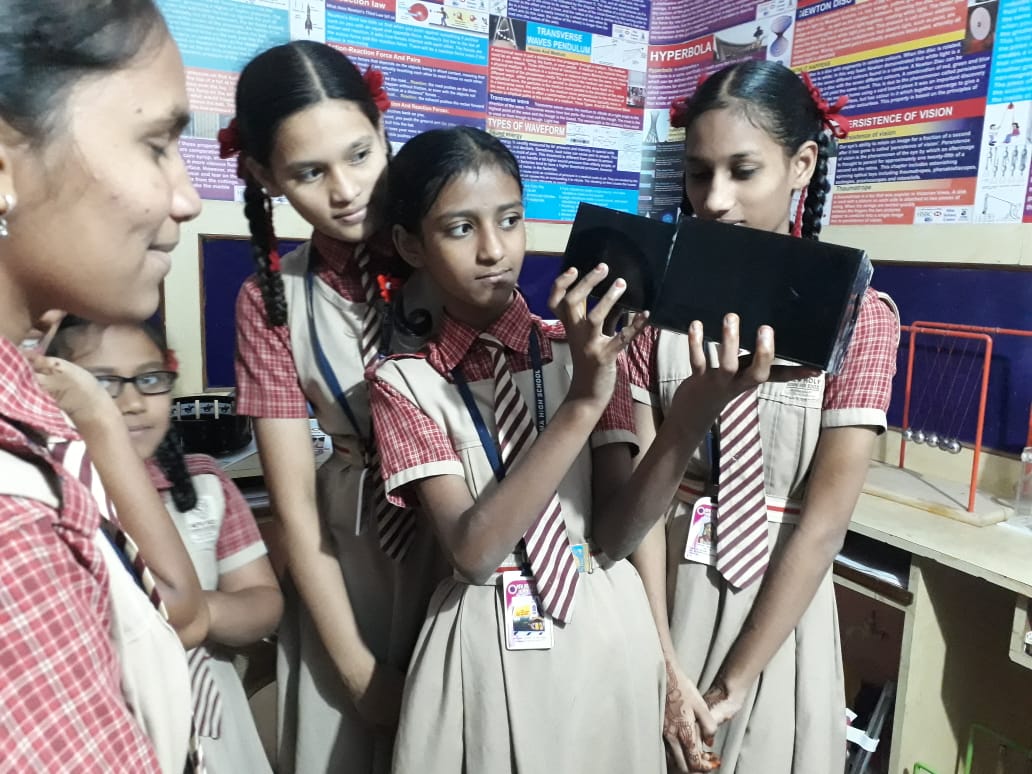 The introduction of MSCs in schools stimulates an open environment. Teachers have seen students observe, review and analyse the MSC models and discuss with each other. While students listen to their peers they reason out with them. The plug and play models are interactive. Students explore the models and while they play with the models, they learn. 15,200 students have experienced this reformed education approach. With the help of these exhibits, students are confident in their abilities and as a result peer-to-peer learning is seen among students which denote that MSC models empower students to become independent learners.
Exhibits are light to carry, easy to use and enable a fun learning experience. These models facilitate a kinesthetic learning approach which provides a hands-on learning experience. MSCs have been installed in the cities and districts of East Godavari, Visakhapatnam and Vijayawada in Andhra Pradesh, and the cities and districts of Hyderabad, Ranga Reddy, Khaman Districts, Mahabubabad and Secunderabad in Telangana.
The teachers and students are positively inclined to use them and make the most of this resource. Teachers have found it to be constructive in the teaching process. The teachers feel supported with the instructional aids they've received. 15 teachers have been empowered through the 'Teacher Training Program' held in the schools of Andhra Pradesh and Telangana. This highlights the importance of providing the necessary resources that enable learning.
MSC models stimulate a proactive learning approach and propagate a tactile learning experience of the science and math concepts introduced in classrooms. One MSC is installed in a school which contains 80 table top models. These models can be carried to the classroom and it makes it easier for many teachers to have access to various models simultaneously. Since they are built keeping in mind the concepts learnt by students of classes 5th to 10th, they are a prerequisite in schools.
A 15% increase in the curiosity of the students is seen. Understanding the concepts has replaced rote learning. Students are assured of their abilities and their confidence levels have gone up. The engagement levels among students have been amplified. The teachers do not need to intervene like before, as the interactive models spike the curiosity of students. The teachers are enthusiastically using the exhibits during classroom sessions. Besides increasing the engagement levels among students, the teaching time has been reduced by 50-60%. Government school students have reaped the benefits of the new age learning strategy through the CSR initiatives.