STEM Learning's CSR Program Implementation details from Maharashtra region
555066
Students Benefitted
STEM Learning is the CSR implementation partner of Mini Science Centres (MSCs) across India. MSCs aim to reduce the gap between contextual and rote based learning, and replace it with a practical approach, which will equip students with the skills and knowledge needed to get lucrative opportunities in their field of interest. It aims to clear the fundamental concepts of STEM disciplines, so that the learners can opt for their higher studies and beyond.
Along with the support of our Corporate Partners, STEM Learning has installed MSCs in 948 government schools in Maharashtra. We've partnered with an umpteen number of Corporates to bring about a change in the education sector. Our 50 partners include 63 Moons, National Payments Corporation of India, Aarambh Community Centre, Aarambh Foundation, ADIS Islampur, Bank of Baroda, BMC, Brillio, Camlin Kokuyo, Bridgestone, Cipla, Concern India, Covestro, Deloitee – UWM, Deshbandhu & Manju Gupta Foundation, EIL, Fullerton India, Godrej, GTL Global Foundation, HDFC Bank, HSBC, Indian NGO, JP Morgan, Johnson & Matthey, Johnson Matthew, JSW, Kalpataru, Kirloskar Kop, L&T, Lupin, Mahanagar Gas, Mahindra & Mahindra, Mazgaon Dock, Monsanto- UWM, MMSS, ONGC, Pfizer, Qualcomm, RCF, Rotary Wai, Schindler, Seva Sahyog (with SS&C GlobeOp & WNS Cares), Siddhagiri Foundation, Sopra Steria, SS&C GlobeOp, STEM Chalisgaon, STEM Mumbai, Sumitomo, Tata Power, TechnipFMC, and WNS Cares
The plug and play models have brought a wave of pedagogical reformation in the government schools. The exhibits are light in weight and can be easily carried to classrooms. The teachers utilize these models to simplify and explain various science and math concepts and theories. The thorough 'Teacher Training Programs' guide the teachers to use the exhibits to their advantage. Teachers have developed a comfort level with the exhibits and are empowered to introduce new concepts in the classroom.
These models facilitate a kinesthetic learning approach which is a hands-on learning experience. The students of grades 5th to 10th have developed a scientific temper. With the help of these exhibits, students are confident in their abilities and as a result peer-to-peer learning is seen among students which denote that MSC models empower students to become independent learners. A 15% increase in the inquisitiveness of students is seen with the introduction of MSC models in classroom. The interactive models keep the students engaged visually while the students explore them; they learn the actual mechanism of the concept.
The 948 government schools are present in the districts and cities of Maharashtra namely Sindhudurg, Navi Mumbai, Sangli, Mumbai, Pune, Raigad, Palghar, Thane, Dhule, Ratnagiri, Nagpur, Satara, Sindhudurg, Nandurbar, Panvel, Nashik, Kolhapur, Beed, Nanded, Osmanabad, Goa, Ahmednagar and Jalgaon. MSCs have had a massive impact on the scientific and mathematical disposition of students in these districts and cities.
During the STEM Awards held in February 2020, immense talent of the students was seen as they participated in various Quiz Competitions, Tinkering and Model Making Competitions. They model made by students shed light on possible solutions to combat various issues faced by society. 45 schools from Maharashtra participated and the students demonstrated their abilities, of which 3 schools reached the zonal round. It was a proud moment for the Students from JNV Sindhudurg School who were declared winners of the Tech Quiz Category. The school was awarded Rs 50,000/- for its meritorious achievement. Also, Students from G D Kanthe Gurukul, Vasind won the first runner up prize in the Engineering Tinkering Category and got Rs 25,000/ cash prize.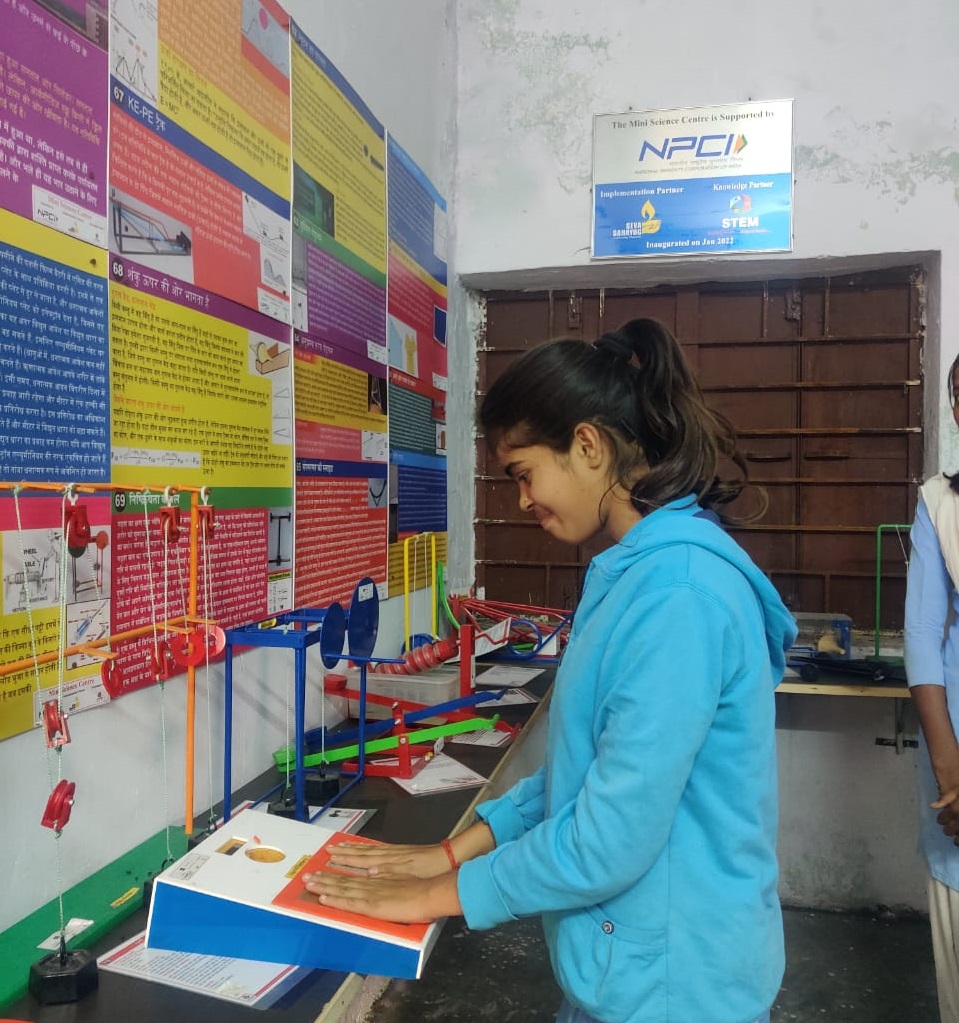 The Mini Science Centre project is being implemented with the support of NPCI and Seva Sahayog in 50 government schools of aspirational district of Singrauli, Madhya Pradesh. it has been observed that the use of MSC models while teaching the theoretical part in the classroom reduces teaching time and helps students to understand complex concepts in an easy manner and so on. So far, 150 teachers, 16,000 students have directly benefited from this project.