I am a program Implementation Associate in the company, when I joined this post I thought just training teachers and travelling will be part of my job responsibilities. Yes! I love to travel; this was the main reason for joining STEM learning social enterprises. Many peoples are disturbed due to many reasons just like Career, Education, Work load and Family unbalance any many more, I think this all problem can be solved by single solution; you need to relax your mind and best way to mind relaxation is to travel to different places. After joined the company I travelled many cities and many states of India I was very happy, but we know happiness never stay's for longer time.
So the my next task was conducting scientist lecture for teachers in Sindhudurg District of Maharashtra state. I quite worry about this task because I never done this kind of thing before, and first time doing any task that you have never done in your life before make you more nervous. And yes! Conducting Scientist lecture was going be biggest task for my life. But life is all about facing your fears and overcome from it, I accepted this task and started figuring out the number of works to be done for this mission.
Dr. Jayant Joshi sir from Bhabha Atomic research center, Mumbai was guest scientist for this lecture. I have to managed the entire thing like arranging venue, inviting teachers of District, arranging food and many more. Meeting a scientist from India's one for well know organization was an another enthusiastic thing for me. Now time has came when session was going to be conducted , I was very nervous on that morning, many questions was running in my mind! Because that day was going to be result of my hard work it could be good or very bad, I just crossed the fingers and prayed for best. and we successfully conducted Scientist lecture on 11th February 2019 at Br. Nathpai Vidyalay Kudal.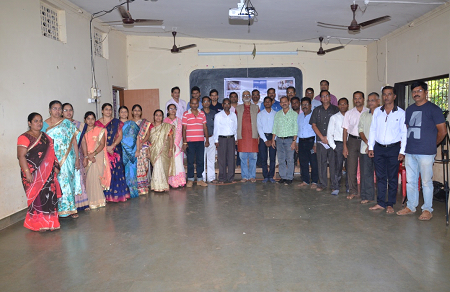 I had learned many things from Dr. Joshi Sir on that day. He is an excellent speaker and motivator. At the end of the day I got big hands from my managers and colleagues. Completing a bigger task makes you more confident, and now I am ready for my next task, this time I was not afraid and level of nervousness was lower than last time.