As program implementation Associate it is like routine, you have been visiting schools and meeting teachers regularly. We are visiting schools for taking training of teachers or some time just to check the status of school and just build good relations with school.
It was an ordinary day, we were visiting some schools of Shahapur, Maharashtra. Shahapur is almost 100 Km from the Mumbai city so to reach this school I was driving my motorcycle almost 2 hours just to reach the school. In the month of November and December most of the schools are busy with their activities just like sports and science exhibitions. I reached Nutan madhyamik vidyalay Changyachapada Shahapur at 10.30 AM. I went to principal office and had small words with them about today visit and met with science teachers Mr. Avinash Gharat Sir, he said we have science exhibition today in the school just have look on students models and their ideas of science and technology. As Mr. Gharat I went to the area where students were presenting their model and their thought. I interacted with many students and saw their models they were so good with their thoughts and ideas.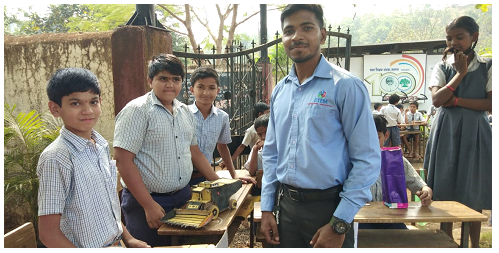 At the end I went to a class room in which some students are waiting to show something to me, when I entered in the class room there was a unique thing which I never seem before. Some students have drawn the Rangoli but was not an ordinary Rangoli it was drawing of human parts and some mathematical shape that they have made with using Rangoli. All the drawing or I can say rangoli was looking very nice. It was like they just merged the science and the tradition at same time.